Where Do Family Nurse Practitioners Work?
If you are considering becoming a family nurse practitioner (FNP), one of the important questions you might be asking is, where do family nurse practitioners work? FNPs provide primary care services to patients of all ages, from newborns to older individuals, and they offer those services in a variety of workplace settings.
Family nurse practitioners are prepared to provide care to patients who are medically stable and not have life-threatening injuries or disorders.
FNPs can work in many different environments. Most can be found in outpatient primary care settings although some work in outpatient speciality settings.
Health care settings for FNPs typically include:
Outpatient hospital clinics — In these clinics, patients receive treatment for conditions that require management, but do not require the patient to be admitted, such as post-surgical care for an obstetrical procedure, medication infusion or pain management.
Private practices — A private practice where an FNP can work can be operated by a group of clinicians, one or more physicians or another nurse practitioner. In a private practice, an FNP will deliver primary care to patients of all ages. This might include helping with common diseases and disorders, as well as minor injuries. FNPs in private practice can run diagnostic tests, develop treatment plans and prescribe medications, as well as deliver patient education. These practices may have a strong family orientation, serving several members of the same family over their lifespan.
Urgent/immediate care clinics — These walk-in clinics provide patients with a place to go when they have an illness or injury that is not life-threatening or puts them at risk of serious disability (that's what emergency rooms are for) but can't wait until the patient can secure an appointment with their regular primary care provider. FNPs' broad-based knowledge makes them ideal for this kind of setting, where they can see a sprained ankle, respiratory infection, animal bite, a bout of nausea and more in a single day. These types of clinics may be operated by hospital groups or retailers like chain pharmacies or big-box stores (so-called "retail clinics").
Rural Health Clinics (RHCs) — These clinics are defined by the Centers for Medicare and Medicaid Services (CMS) as those serving rural areas designated as a shortage area in need of primary care services. Providers are required to be organized in teams of physicians and non-physicians, including nurse practitioners, physician assistants and certified nurse midwives. At least one of these non-physician providers is required to be available at least 50% of the time that the clinic is open. Although every RHC must operate "under the supervision of" an MD or DO, rules regarding the time or scope of the physician's supervision will vary from state to state.
Community health clinics and offices — FNPs working in community health clinics will provide primary care services, frequently to an underserved or economically disadvantaged population. The FNP may become more attuned to public health issues. Such clinics may be operated by state or local governments, or by not-for-profit entities, such as foundations or other institutions, including hospitals.
Employer/corporate clinic — A company (or group of companies) might set up a clinic in-house to provide health care services to its employees. An FNP can provide primary care, such as well-woman exams, physicals and any first aid that might be needed. Companies may be especially interested in the preventive health services an FNP can provide, such as smoking cessation or weight management, in part to keep employee health insurance rates down.
Schools and Universities — An FNP in a school-based clinic may see a variety of health concerns ranging from minor bumps and scrapes to students who need help managing diabetes or asthma. The FNP may perform risk assessments around such issues as substance and alcohol use, mental health, sexual health and personal safety. Students in primary and secondary school may rely on a school-based FNP to discuss issues they are hesitant about raising during a pediatric visit with a parent present.
Specialty clinics — FNPs may choose to work in a specialty clinic providing such services as chemotherapy, bariatric care, chronic disease management or hospice care. Some specialties will require additional education and certification. (See list of subspecialties below.)
Telemedicine — Also known as telehealth, recent technology allows FNPs to video conference with patients to assess primary care needs or manage ongoing conditions. Telemedicine services are especially useful for patients in rural areas or with limited mobility for whom getting to and from a clinic can be difficult. FNPs can perform these services as part of hospital or private practice, or by working for dedicated telehealth firms.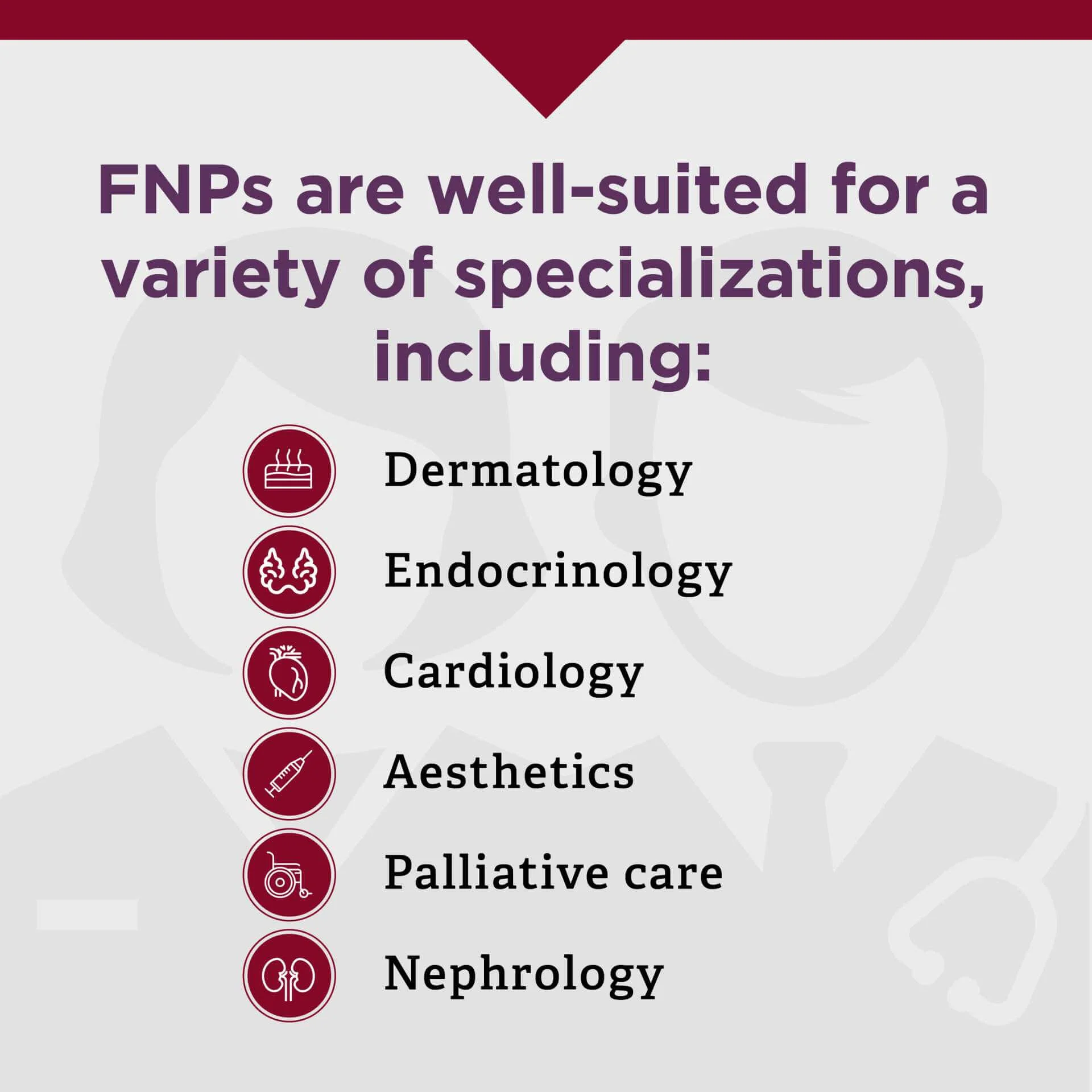 FNPs working in subspecialties
FNPs are well-suited for primary care. However, those interested in other areas may choose a subspecialty. In some cases, additional education is required for certification in a subspecialty, while in others, certification may be granted after sufficient clinical experience or participation in a fellowship program. There are no state licensures for these subspecialties.
Subspecialties include but are not limited to:
Addiction care
Dermatology
Endocrinology
Emergency medicine
Cardiology
Aesthetics
Palliative care
Nephrology
Oncology
Orthopedics
With a variety of work settings and subspecialties to choose from, FNPs have ongoing flexibility in their careers.
Changing Care Provision Structure
Our overall health care structure is changing throughout the country. It's becoming more common for the patient care process to include nurse practitioners as well as physicians. An NP who sees a certain set of symptoms among a community population may seek to understand and address environmental or systemic causes of the illness. Many patients have expressed a preference for NPs—particularly as primary care providers—because they feel that NPs are able to spend more time with them and listen better to their concerns.
FNPs may also find that they can increase their impact by working in leadership positions or policy development and implementation. Policy responsibilities may be a large part of the job for FNPs who work in community or rural health settings.
Family Nurse Practitioners in Specific States
Use these resources to learn more about becoming or being an FNP in select areas:
What is the Scope of Practice?
A family nurse practitioner's scope of practice is determined by state law and the state's board of nursing. Currently, 26 states, two territories and Washington D.C. have granted nurse practitioners "full practice" authority. This means FNPs in these areas can operate without physician supervision, have the ability to diagnose, order and interpret diagnostic tests and can administer treatment, including prescribing medications.
States, territories and the federal district with the right to full practice include:
Alaska
Arizona
Colorado
Connecticut
District of Columbia
Delaware
Guam
Hawaii
Idaho
Iowa
Kansas
Maine
Maryland
Massachusetts
Minnesota
Montana
Nebraska
Nevada
New Hampshire
New Mexico
New York
North Dakota
Northern Mariana Islands
Oregon
Rhode Island
South Dakota
Vermont
Washington
Wyoming
Some states have "reduced practice," which means that at least one element of NP practice is reduced. State law requires a "regulated collaborative agreement" between the NP and a physician or an outside health discipline in order for the NP to provide patient care. NPs may have limited prescriptive authority in these areas.
Reduced practice states/territories include:
Alabama
American Samoa
Arkansas
Illinois
Indiana
Kentucky
Louisiana
Mississippi
New Jersey
Ohio
Pennsylvania
Puerto Rico
Utah
U.S. Virgin Islands
West Virginia
Wisconsin
Currently, 11 states operate under "restricted practice," meaning state laws restrict some form of NP practice. These states make it necessary for the NP to undergo physician supervision, delegation or team management. They also have limits on NP prescriptive ability, though the process varies by state.
Restricted practice states include:
California
Georgia
Michigan
Missouri
North Carolina
South Carolina
Tennessee
Texas
Virginia
Although NPs in Texas are under restricted practice, the state recently eliminated required on-site physician supervision. Overall, Texas is making strides to address the demand for health care services. Due to a nationwide provider shortage, nurse practitioners in more and more states are advocating for full practice, which means NP practice authority is continually evolving.
Independence
The growing independence of NPs (and the right to full practice in many states) has led to the opening of new clinics— especially primary care practices and retail clinics. Retail clinics (e.g., walk-in clinics located in retail stores), are one particular line of business that has become increasingly utilized in states that allow the independent practice of NPs.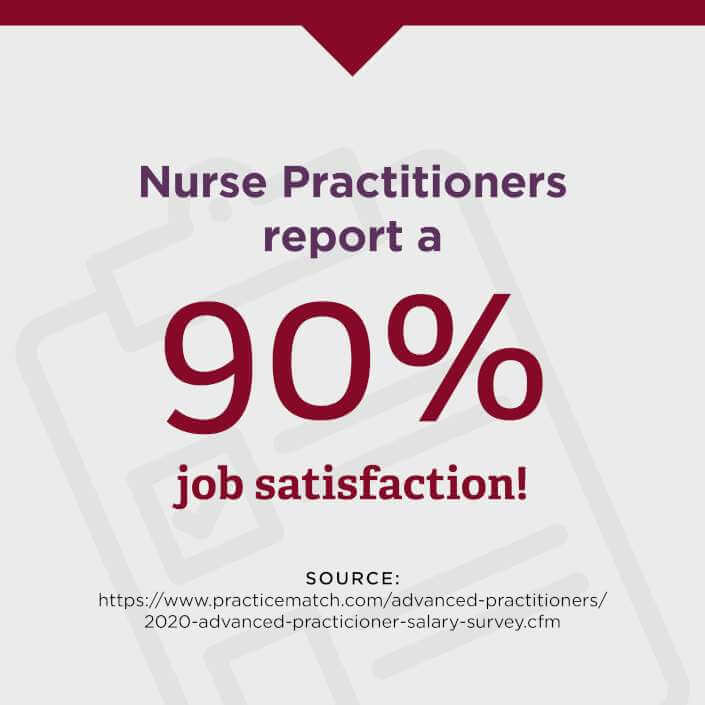 Career Satisfaction
Nurse practitioners enjoy high levels of career satisfaction. A PracticeMatch survey revealed that 90% of nurse practitioners reported they were satisfied with their jobs. Since NPs are in high demand, they also have job flexibility, which makes it easier to find a new job if they're unsatisfied in their current setting.
More employers are seeing great value in the nurse practitioner role, with the result that prospects for all job-seeking NPs are very good. U.S. News & World Report ranks nurse practitioner as the No. 1 job in health care, and No. 2 in its overall list of 100 Best Jobs.
How Can I Get Started?
As a leading FNP institution both locally and nationwide, Texas Woman's online Master of Science in Nursing - Family Nurse Practitioner program offers an affordable option for those who want to advance in nursing. Our graduates have a 98% first-time pass rate during certification exams, so you can feel confident as you prepare to deliver holistic care.
If you are already a licensed RN with a BSN degree, you can apply to the Texas Woman's online program and earn a Master of Science in Nursing focused on family practice in as few as three years. The program includes clinical hours and didactic work on all the factors that can impact health and well-being, including pathophysiology, pharmacology and more. In addition, you will learn the leadership, applied research, professional and advocacy skills you need for a successful career in any practice setting.
Learn more about Texas Woman's online MS-FNP program today.