How to Become an FNP in North Carolina
Family nurse practitioners (FNPs) are in demand throughout the United States. There is currently a primary care physician shortage and 325,000 nurse practitioners, including FNPs, are stepping up to bridge the gap of primary care providers by offering high-quality, cost-effective, patient-centered care.
Starting your career as a nurse practitioner in North Carolina will provide you with the opportunity to deliver high-quality care, develop relationships with your patients and leave a lasting impact on people's lives. Continue to read to find information regarding how to become an FNP and obtain state licensure in North Carolina.
What is a Family Nurse Practitioner?
You may be wondering, what exactly is a family nurse practitioner (FNP)? A family nurse practitioner is a registered nurse who has earned an advanced degree such as a Master of Science in Nursing (MSN) or Doctorate of Nursing Practice (DNP) degree and specializes in family medicine and primary care.
FNPs focus on health promotion and disease prevention by managing both acute and chronic illnesses. They deliver health care to individuals of all ages and backgrounds. The ability to care for people throughout their lifespan allows the FNP a unique opportunity to develop relationships with their patients and even care for multiple generations in one family.
Examples of day to day tasks of an FNP include:
Annual physicals
Order and interpret diagnostic tests
Develop treatment plans based on their assessment and diagnosis
Consult and collaborate with other specialties when appropriate
Provide education to their patients
Ensure patients are up to date with appropriate screenings (i.e., mammograms, colonoscopies, low dose lung cancer screenings) as well as other health promotion items such as vaccines.
Scope of Practice of FNPs working in North Carolina
Scope of Practice refers to the rules and regulations the NP must follow in their practice and varies by state.
Restricted Practice: Restricted practice requires the NP to be supervised by a designated healthcare provider for their entire career. They may also be restricted from engaging in at least one element of the NP practice.
Reduced Practice: Reduced practice requires the NP to have a career-long collaborative agreement with a designated healthcare provider. It may also limit their ability to perform one or more aspects of the NP practice.
Full Practice: Full practice grants the NP the authority to practice independently under their state license. This means they can assess, diagnose and treat the patient, including ordering diagnostic tests and prescribing controlled substances, without lifelong supervision from a physician.
North Carolina is 1 of 11 states granting restrictive practice to the nurse practitioner, meaning, they cannot practice independently and must be supervised by a physician. An FNP in North Carolina must have a Collaborative Practice Agreement (CPA) with a physician. The CPA is a specific form outlining the duties of the FNP.
"The CPA identifies the drugs, devices, medical treatments, tests, and procedures that may be prescribed, ordered, and performed, as would be appropriate for the diagnosis and treatment of the common medical problems seen in the Nurse Practitioner's practice. The CPA must state how the continuous availability of the supervising physician will be provided for ongoing supervision, consultation, collaboration, referral, and evaluation of care provided by the Nurse Practitioner. The CPA must be reviewed, signed, and dated annually by the Nurse Practitioner and supervising physician." North Carolina State Board of Nursing
3 Reasons to Become a Family Nurse Practitioner in North Carolina
There are many great reasons to pursue a career as an FNP. Here are three of the top reasons.
Greater Professional Responsibility
The FNP role comes with great responsibility and career satisfaction. This includes advanced assessment and diagnostic skills, ordering appropriate diagnostic tests, interpreting those tests and developing a treatment plan. The FNP also determines appropriate follow-up times for their patients. An FNP can prescribe medications in North Carolina as long as prescriptive authority is stated within their collaborative practice agreement with their supervising physician(s). Once prescriptive authority is given, it is the FNPs responsibility to complete the mandatory education requirements as stated by the state of North Carolina.
Increased salary and new job opportunities
According to the AAMC, an estimated shortage of between 37,800 and 124,000 physicians by 2034 is anticipated across the U.S. in both primary and specialty care. And the BLS estimates employment of nurse practitioners to increase by 52% between 2020 and 2030, much higher than average growth, to help answer this need.
FNPs also receive a higher salary than RNs and LPNs. The national average salary for an FNP is $105,898 a year. For FNPs working in major cities in North Carolina, there are opportunities to earn more than the national average salary for an FNP. For example, the average salary for an NP in Charlotte, North Carolina is $108,280.
Work-Life balance and control over schedule
The FNP role also comes with the possible benefit of a better work-life balance. This is often due to greater control over their schedule than when working as an RN. The FNP working in a clinical setting typically works Monday through Friday 8 a.m. to 5 p.m. and possibly Saturday morning – allowing them to be home in the evening and the majority of the weekend. Some FNPs do practice non-traditional hours outside of the 9-to-5 norm or weekend hours or may be required to be "on-call" on evenings and weekends.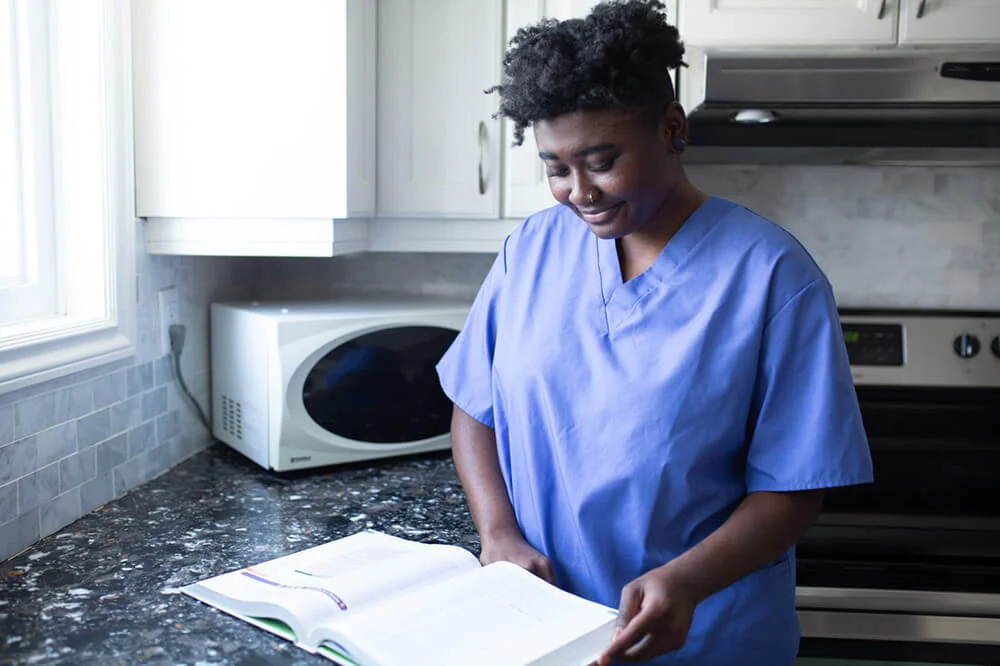 Step-by-Step Guide to Becoming an FNP in North Carolina
Now that the role of the FNP has been discussed, let's review how you can become a nurse practitioner in North Carolina.
Six steps must be completed to become an FNP in North Carolina. If you already have a BSN and nursing license, you may be able to skip to step #3.
1. Complete your BSN degree or Direct-entry Masters' degree
Completing your Bachelor of Science in Nursing (BSN) is required to apply to graduate school. If you do not have your BSN, you must complete this step before moving on.
Achieving your BSN is done through attendance and completion of a traditional board-approved and accredited BSN program. This program typically takes four years to complete. However, If you already have your Associate's Degree in Nursing (ADN), you are likely already practicing as a registered nurse (RN) at the bedside. The experience gained as an ADN nurse will be beneficial as you continue on to earn your BSN and prepare for graduate school. Fortunately, there are accelerated nursing programs available to help you achieve your BSN—and these programs are RN-to-BSN (RN-BSN) programs. Most of these programs are less than two years and are also offered online, allowing you to continue to work while in school.
2. Obtain RN licensure in North Carolina
Once you have completed your BSN, the next step to becoming an FNP is to obtain your RN license in North Carolina. To practice as an FNP, you must have an active RN license in addition to your FNP license.
Here is how you obtain an RN license in the state of North Carolina
Complete a board-approved RN education program.
Take the National Council Licensure Exam (NCLEX®). This includes registering, receiving your Authorization to Test (ATT) from the state of North Carolina, scheduling the examination and taking the examination. This exam acts as your application to become a North Carolina Registered Nurse.
You must also pass a criminal background check before receiving your RN license.
If you already hold an RN license in another state, you can apply for a North Carolina license by endorsement. The North Carolina State Board of Nursing has specifics regarding the information needed to transfer your current RN license to North Carolina.
3. Complete an accredited FNP program
The next step is to complete an accredited FNP program.
Before applying to an FNP graduate program, make sure you have met or completed the requirements to apply. This typically includes obtaining a minimum GPA in your undergraduate program, writing an essay and having letters of recommendation from co-workers such as your manager or physicians you work with.
Once you are accepted into the FNP program, there may be prerequisites that need to be completed. These prerequisites may include a current Basic Life Support (BLS) certification and statistics course. It is important to note that these are just examples—visit the school website or reach out to a school representative regarding the specifics for application.
There are different programs to pursue and it is important to choose the appropriate program for your goals. There are MSN, DNP and post-graduate certificate (PMC) programs available depending on the education level and goals. Each program varies in the length it takes to complete.
4. Pass the national certification exam
After you graduate from an accredited FNP program, the next step is to pass the national certification exam. For FNPs, two nationally recognized boards administer the FNP national certification exam, and you must pass one of these exams before obtaining FNP licensure in North Carolina. They are The American Nurses Credentialing Center (ANCC) and The American Association of Nurse Practitioners (AANP). To take these exams you must:
Have an active RN license;
Complete an MSN, Post-graduate certificate, or DNP degree specializing as an FNP from a program accredited by the CCNE or ACEN or CNEA; and
A minimum of 500 FNP faculty-supervised clinical hours must be included in the FNP program.
Your family nurse practitioner national certification is valid for five years. To renew, you will have to complete the requirements outlined by your specific certifying body.
This test is challenging, but fortunately, there are resources available to prepare the FNPs for the exam. These resources include apps that allow you to complete practice questions anytime or anywhere–such as the FNP Mastery app. You can also complete a course to better prepare you for your FNP boards–Fitzgerald Health Education Association and the American Nurses Association are two examples. Depending on the exam you take, the professional organization with your exam may also offer exam prep courses or resources to help set you up for success.
5. Obtain FNP licensure in North Carolina
After you pass your national certification exam, the next step to becoming a nurse practitioner in North Carolina is to obtain your FNP license. Visit the North Carolina State Board of Nursing for specific information and assistance with the application process.
You will have to complete the Registration and Initial Approval to Practice form and submit a $25 registration fee and $100 per physician for nurse practitioner (it is only $20 per physician for nurse practitioner volunteer status but it is a non-paid position). Specific documents will also have to be submitted including:
Active North Carolina RN license
Physician Information
Practice Information
Official Transcript
Verification of passing an FNP national certification exam
Licensed FNPs in North Carolina must renew their approval(s) to practice by the last day of your birth month each year. This is done by Maintaining certification as an FNP by a National Credentialing Body (ANCC, AANP, AACN, PNCB, NCC) and completing 50 contact hours of continuing education units (CEUs) each year—A minimum of 20 hours of the required 50 hours must be FNP focused. If you prescribe controlled substances, additional CEUs must be completed.
6. Apply for Jobs
Once you have passed your national certification exam and obtained your license as a nurse practitioner in North Carolina, you can now apply for jobs! In addition to standard job posting websites, professional organizations such as the American Association of Nurse Practitioners (AANP) and the American Nurses Association (ANA) also have job boards available. If there is a specific healthcare organization you wish to work for, you can also search their website for current job openings.
It is vital to ensure your resume is up-to-date during the application process, as this will help set you apart from other applicants. Click here for a few tips on how you can improve your current resume.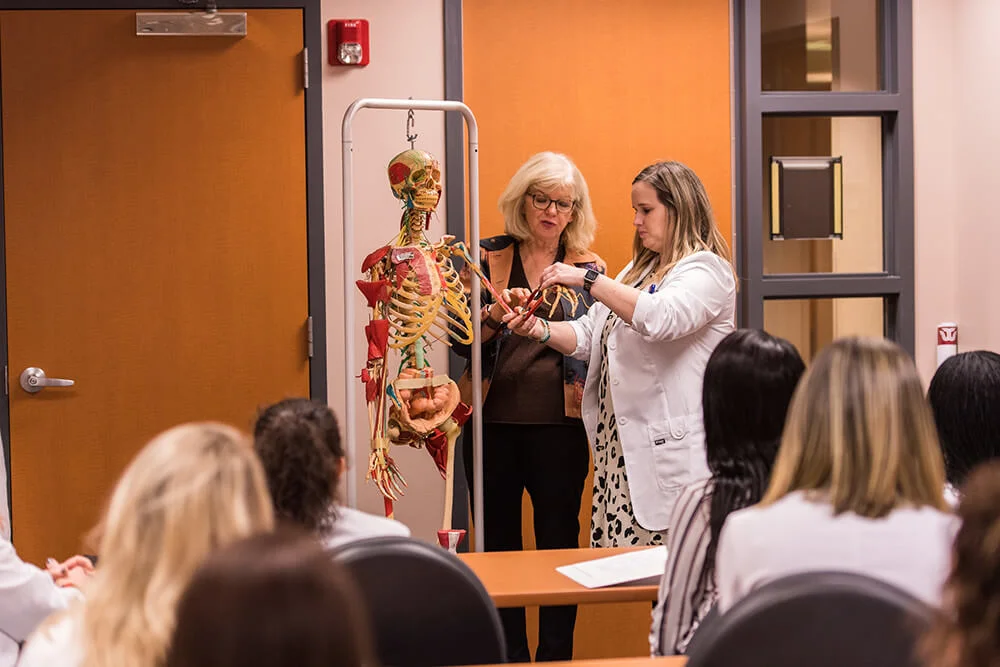 How to Become an FNP with Texas Woman's University
Are you ready to pursue your FNP? Then look no further than Texas Woman's University.
Texas Woman's University offers an online Master of Science in Nursing—Family Nurse Practitioner program. The program is built on a solid curriculum designed to further develop your critical thinking and problem-solving skills, and leadership skills, leading to enhanced patient care with a focus on the whole patient.
As a Master of Science in Nursing—Family Nurse Practitioner student, you will:
Go beyond treating illness to understanding the range of factors impacting health and wellbeing;
Deepen your knowledge of advanced topics such as pharmacology, pathophysiology, patient assessments, treatment methods and applied research to develop essential competencies;
Discover a range of resources for assessment, analysis and diagnosis;
Understand advanced practice nursing from multiple perspectives; and
Build the professional, interpersonal and leadership skills needed for success.
The online FNP program at Texas Woman's University is authorized in North Carolina and 29 additional states. It is ranked the #9 online FNP program nationally and #1 in Texas for Best Online Family Nurse Practitioner Master's Program by U.S. News & World Report. In 2020, Texas Woman's University had a 99% pass rate on the FNP licensure exam, demonstrating the student's quality of education and preparedness upon graduation.
So what are you waiting for? Visit Texas Woman's University for more information regarding their online nursing programs including the FNP program.