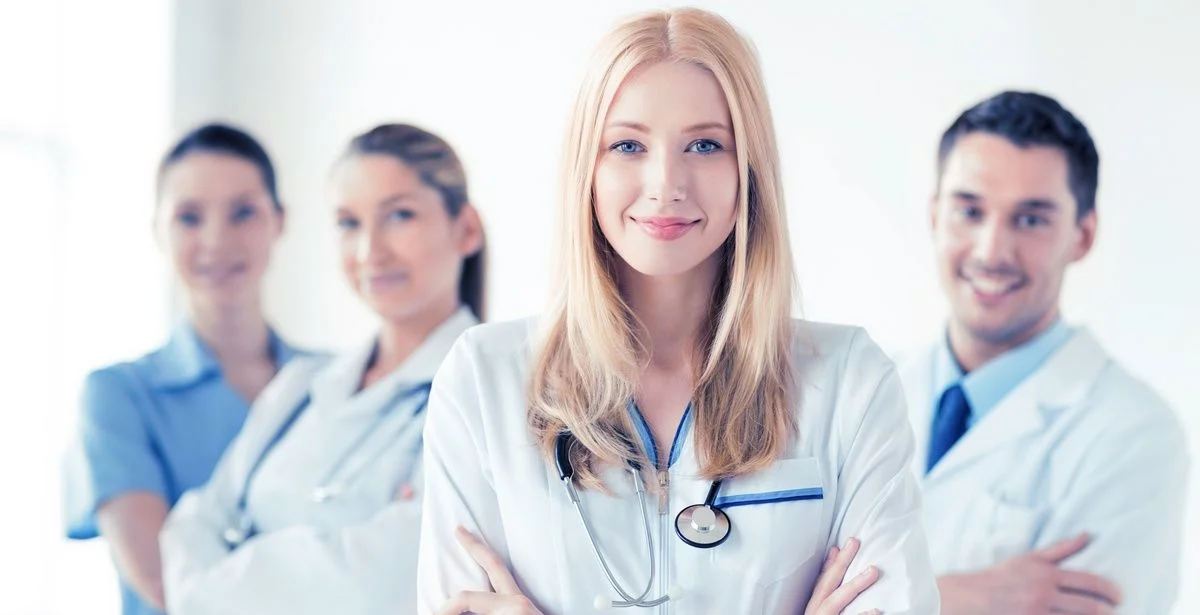 How Can FNPs Affect the Shortage of Primary Care Providers?
Within the next decade, a primary care provider shortage will leave the United States health care system in dire need of trained providers. In an effort to prepare nursing students and working RNs to help fill the gap, Texas Woman's University now offers an online Master of Science in Nursing - Family Nurse Practitioner (FNP) program.
Many low-income areas in Texas–urban and rural–already lack sufficient health care services. This fast-growing shortage of providers could have a serious impact on residents throughout the Southwest. According to the National Center for Health Workforce Analysis and the Texas Department of Health and Human services:
The nursing shortage in Texas is projected to reach a deficit of nearly 16,0001 registered nurses by 2030.
The same time period may hold a shortage of nearly 3,4002 primary care physicians for Texas.
There is a bright side, though. Today's nursing students could help mitigate the shortage and assist a broad population in need of services by earning the credentials needed to pursue advanced primary care in Texas.
A Closer Look at Primary Care Supply and Demand
In the U.S., the demand for primary care is projected to outpace the supply of providers due to the following factors:
Currently, the population is growing and aging at a previously unseen rate.
By 2032, the general population is estimated to grow by more than 10 percent.
By the same year, the population of residents aged 65 and older is estimated to grow by 48 percent.
Americans 65+ spend three times as much on health care as those of working-age.3
One-third of the physicians who are currently practicing will reach retirement age within the next decade.4
In other words, those who will find themselves in need of health care in the coming years could face longer wait times for treatment or have to travel farther for access unless more aspiring primary care doctors and nurse practitioners enter the career pipeline.
How Will the Primary Care Physician Shortage Develop?
According to an April 2019 report by the Association of American Medical Colleges (AAMC), the shortage could be as many as 55,2004 primary care physicians by 2032. The AAMC's projected range for the physician deficit was based on several variables, including the stats highlighted above, unknowns like how many physicians will work past retirement age and how many physicians' services could eventually be filled by nurse practitioners. Regardless of these variables, the primary care physician shortage is projected to grow until 2032.
When the AAMC made its projections in 2017, there was already a shortage of 14,500 primary care physicians in the U.S. According to their projections for the coming years, the primary care physician shortage will fall within these ranges:
In 2020 – a shortage of 15,000 to 22,500 providers.
In 2025 – a shortage of 18,400 to 37,500 providers.
In 2030 ­– a shortage of 21,500 to 51,100 providers.
In 2032 – a shortage of 21,100 to 55,200 providers.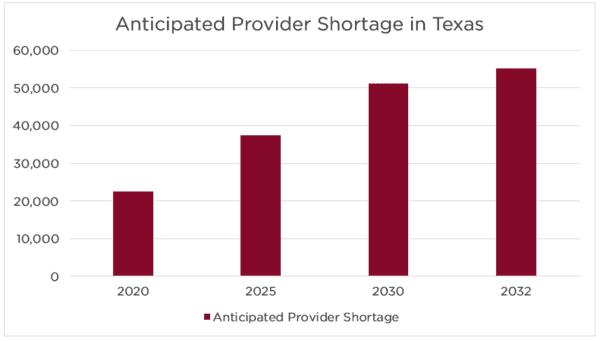 Will There Be a Nursing Shortage, Too?
The demand for all nurses is not expected to slow down in the U.S. anytime soon, but some states are expected to have a harder time filling the need for primary care providers than others. This means opportunities for advance nurse practitioners will grow faster than the national average— Texas is one of those states.
The Bureau of Labor Statistics projects job growth for nurse practitioners to increase by 36 percent by 2026 nationwide but, the Texas Workforce Commission projects the demand for nurse practitioners in Texas to grow by 44 percent in that same time period.5
Add those numbers to the projected shortage of primary care physicians in Texas, and aspiring nurse practitioners can see how this is a state with some real employment opportunities— both now and in the coming years.
Shaping the Quality of Patient Care
Current RNs can help address the demand for holistic primary care in their local community. Texas Woman's University (TWU) now offers an online Master's in Nursing - Family Nurse Practitioner track for students. The program is authorized in more than 30 states. In addition to affordable tuition and continued education from a leading institution, TWU can help you fulfill the growing need for family nurse practitioners. Prepare for a thriving career and provide complete patient care to populations who will need it in the coming years.
Contact us with questions or for more information.
Sources:
1 "The States with the Largest Nursing Shortages." RegisteredNursing.org. Accessed 13 August 2019 from: https://www.registerednursing.org/largest-nursing-shortages/.
2 "Why does it take so long to get a doctor's appointment?" Fort Worth Star-Telegram. Accessed 14 August 2019 from: https://www.star-telegram.com/news/local/community/fort-worth/article225525290.html.
3 "Misconceptions About Healthcare Costs When You're Older." The New York Times. Accessed 26 August 2019 from: https://www.nytimes.com/2018/12/24/upshot/misconceptions-about-health-costs-when-youre-older.html.
4 "New Findings Confirm Predictions on Physician Shortage." AAMC News. Accessed 12 August 2019 from: https://news.aamc.org/press-releases/article/2019-workforce-projections-update/.
5 "Occupation Profile for Nurse Practitioners." CareerOneStop. Accessed 26 August 2019 from: https://www.careeronestop.org/Toolkit/Careers/Occupations/occupation-profile.aspx?keyword=Nurse%20Practitioners&onetcode=29117100&location=texas.