Becoming a Holistic Primary Care Provider in TWU's Family Nurse Practitioner Program
As a family nurse practitioner (FNP), you will care for mind, body and spirit. Patients look to FNPs to treat and prevent disease as well as optimize all the facets of their well-being.
In this article, you'll learn about holistic nursing care and how Texas Woman's University (TWU) prepares holistic primary care providers through its online family nurse practitioner program.
What is Holistic Care in Nursing?
Holistic nursing is all nursing practice that aims to heal the whole person. It facilitates health and well-being through interventions that integrate mind, body and spirit. In other words, holistic nursing considers the many factors that can influence well-being.
Holistic nursing stems from the philosophy of holistic health. Holistic health sees each person as a whole with interdependent parts: the physical, mental, emotional and spiritual. When one part isn't optimized, all of the others are affected. The goal of holistic health, and thus holistic nursing, is to improve well-being by helping each part function to its maximum potential.
Examples of Holistic Care in Nursing
Holistic nursing varies depending on the nurse's scope of practice. Here are a few examples:
Investigating beyond the physical symptoms of a condition to determine whether the cause is an underlying disease or another factor such as lifestyle.
Taking proactive measures to prevent disease before it manifests.
Recommending lifestyle changes to promote overall health.
Inviting patients to express their preferences for treatment and intervention.
Inquiring about patients' current mental and emotional status.
Holistic nursing personalizes care, enhances disease prevention and nurtures trust and respect between patients and providers. As a result, it can significantly improve patient outcomes.
How Do FNPs Take a Holistic Approach in Nursing?
FNPs are advanced practice registered nurses (APRNs) who provide the full range of primary care services to patients of all ages. They have completed a graduate-level education program that prepares them to:
Diagnose and treat health conditions.
Educate patients on disease prevention.
Manage acute and chronic illnesses/diseases.
FNPs consider the whole person during assessment, diagnosis, planning, intervention and treatment. They address the many factors that affect health and well-being as well as the patient's unique preferences, values and beliefs.
3 Frequently Asked Questions about Holistic Nursing Care and the FNP Role
Where can FNPs deliver holistic nursing care?
Holistic nursing care isn't dependent on the setting. That means FNPs with a holistic perspective can work with patients of all ages in all health care settings. Most FNPs work in hospital outpatient clinics and private group and physician practices.

What alternative therapies do holistic FNPs use?
Some FNPs with a holistic perspective offer alternative approaches to treating and preventing disease, such as aromatherapy or acupuncture.

Providing healing therapies is not what defines holistic care in nursing. Rather, it's the way FNPs think about health and well-being that demonstrates holistic nursing practice.

What credentials are needed to become an FNP with a holistic approach in nursing?
All FNPs must hold the following credentials:

Current, unencumbered RN license.
Accredited master's or doctoral degree from a family nurse practitioner program.
National FNP board certification.
Nurse practitioner state licensure.
When it comes to FNP education, every family nurse practitioner program will prepare you to provide patient-centered care. If you're interested in a whole-person approach, choose a program that emphasizes holistic care. One example is the online Master of Science in Nursing-Family Nurse Practitioner (MSN-FNP) program at Texas Woman's University.
Licensed FNPs don't need professional certification to practice holistic nursing care. However, some choose to obtain it from the American Holistic Nursing Credentialing Corporation, which validates competence and expertise in holistic nursing.
What is Texas Woman's Online Family Nurse Practitioner Program?
Nurse practitioners stand out from other health care providers because of their unique emphasis on the well-being of the whole person. At Texas Woman's University, our online MSN-FNP program strengthens this holistic understanding of care.
The online MSN-FNP will help you go beyond treating illness to understanding the range of factors that can impact health and well-being. As a graduate, you'll be prepared to become a holistic primary care provider.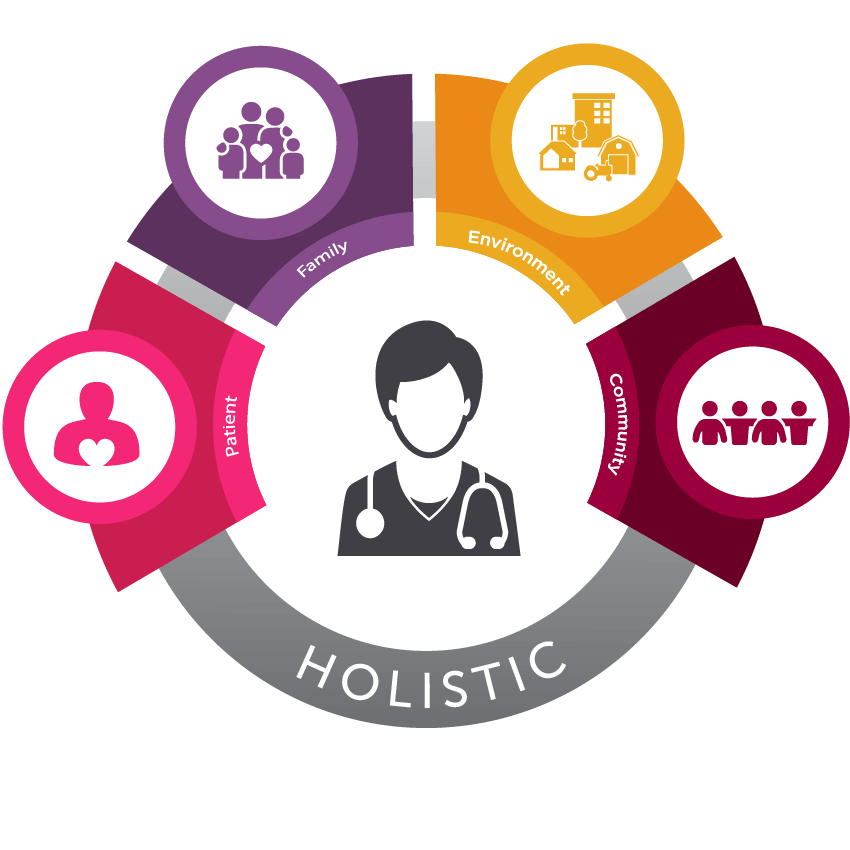 Our Philosophy of Holistic Nursing Care
Our online MSN-FNP program equips aspiring FNPs to treat the whole patient. The curriculum employs a compassionate and multifaceted approach to nursing practice.
The program will prepare you to consider the entire person, their family, environment, community and beyond. Let's take a closer look at these components and how they're connected.
The Patient
The patient is the focus of FNPs. Our online MSN-FNP program will prepare you to achieve optimal care outcomes by examining the internal and external factors that shape health and well-being.
These factors include:
Age
Culture/religion
Socioeconomic status
Race/ethnicity
Mental health
Lifestyle
Family
We believe that treating a patient means treating the family. Whether biological or of the patient's choosing, the family plays a significant role in how a patient interacts with the world.
By understanding family dynamics, FNPs can improve outcomes for patients and their family unit.
Environment
The environment also plays a key role in patient health and well-being. For example, urban and rural areas present unique challenges to providing quality patient care. Understanding the influence of a patient's environment will help you improve patient outcomes.
Texas Woman's is purposeful about preparing aspiring FNPs for care in rural areas, where they can have a monumental impact.
Community
Patients interact with their communities in many ways, from attending church services to serving in civic organizations. As a result, FNPs who are engaged in their communities have more opportunities to make a difference in the lives of individuals and their families.
Our online MSN-FNP program will prepare you to improve health outcomes through community involvement, such as community health and policymaking.
Online MSN-FNP Program Outcomes
All-encompassing patient care is the overarching theme of the online MSN-FNP program. You'll develop advanced health care knowledge, evidence-based practice skills and clinical capabilities while gaining a multifaceted perspective when it comes to the wellness of patients, their families and communities.
As a student, you will:
Explore research and quality improvement initiatives in the clinical setting, including problem identification, determination of the evidence supporting available data for nursing practice, and development of strategies for incorporating research and quality-driven changes in practice.
Understand the significance of emphasizing wellness and primary prevention for culturally diverse and medically underserved families.
Examine how policies, current issues and the structure of today's health care systems relate to patient care and outcomes.
Assess family functioning, structure and health behaviors as they relate to patient well-being.
Formulate culturally appropriate strategies in the planning, management and evaluation of clinical prevention and health promotion interventions/services to individuals, families and identified populations.
The program will equip you to become a holistic primary care provider who delivers quality health care that supports the entire patient experience.
How Does Texas Woman's Support Student Success?
Texas Woman's online MSN-FNP is one of the top family nurse practitioner programs in the country. It's ranked #9 nationally-and #1 in Texas-for Best Online FNP Master's Program by U.S. News & World Report.
The program offers recognized academic excellence supported by a transformative learning experience. Students receive dedicated support from day one to graduation through:
Clinical Placement Services: You'll get help finding sites for your clinical rotations from our clinical placement team. That means you can focus on your studies and gaining competence as an FNP instead of worrying about the logistics of clinical placement.
Academic Guidance: An admissions advisor will provide you with 1:1 guidance on completing the online program application. Enrolled students have a dedicated student success advisor to assist them throughout the program.
Immersive Learning Environments: Our caring staff and faculty deliver innovative course content in an engaging online learning environment. Your professors, advisors and peers will be committed to helping you thrive as an FNP.
The online MSN-FNP program supports students as they build the educational foundation needed to fulfill the significant demand for holistic FNPs. As graduates, 98% pass the national FNP certification exam on their first attempt.
Gain a Holistic Perspective as an FNP
The nation's health care needs continue to become increasingly complex. More than ever, the U.S. needs advanced practice nurses who understand how to improve outcomes through patient-centered care.
Texas Woman's University can help you take the first step towards a career as a holistic primary care provider. Our online family nurse practitioner program is accredited by CCNE and authorized to enroll students in more than 20 states.